07 Aug 2021
---
Savings Rates during Q2 2021
July 2021
By Anthony Tunmore
Savings rates in the second quarter of 2021 have pleasantly begun to steady and for some client types, we have seen the first shoots of rate increases too. While we do not expect for rates to significantly change over the second half of the year, we do think it possible for gradual and slight increases to feed into the savings sector in the months ahead. In this article, we share the latest data from the savings sectors for our most popular client types.
Personal Savings Rates
Instant access rates for personal savers have plateaued over 2021 but we have seen marginal increases as we move into July 2021. The best rates on offer seem to largely be coming from the building society providers. For new customers, Skipton Building Society are presently paying 0.60%, equalled by Cynergy Bank (formerly Bank of Cyprus UK), and followed by Coventry Building Society paying 0.55%.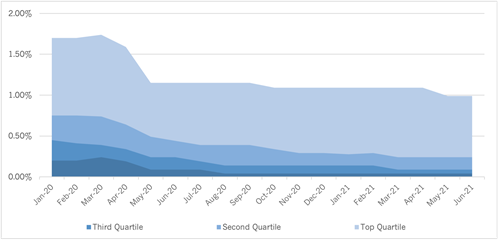 These products represent an increase of 0.10% since our last issue and we are delighted to see rates positively moving in the right direction. Many of our private individual clients have exited from businesses or have received cash as a result of a significant life event (such as a bereavement or a divorce). In such circumstances, we find clients would like to speak with us first so that they can consider their best actions before investing or putting the cash to a particular use. It's good to see rates increasing to afford people the time to think and we've certainly seen an increase in interest for these flexible accounts.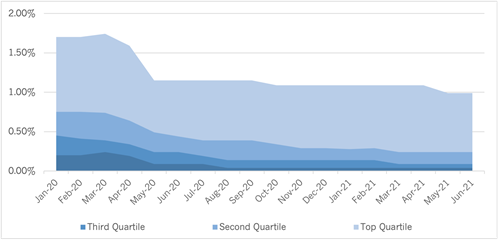 Looking at notice products, Personal savers tend to prefer 90 to 95 day notice products within the service. These terms give clients that hold significant cash an opportunity to ladder their cash portfolio to increase their rates while also retaining the flexibility to use or invest their cash as an opportunity arises to do so.
In our last issue, the best rates payable at the time of writing were with Charter Savings Bank and OakNorth Bank who were paying 0.72% on 95 day and 90 day notice products respectively. Over the course of the last three months, interest rates have risen to 0.86% for new customers, presently offered by Allica Bank. They are closely followed with Hampshire Trust Bank paying 0.85% and BLME paying 0.80%. All three providers offer these products online and provide convenient savings technology for customers wishing to open accounts remotely.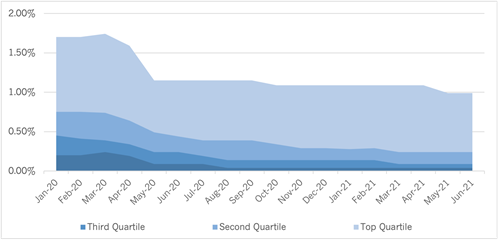 In the fixed term market, many customers are opting for 1 to 2 year terms at present. These are usually linked to known liquidity requirements (such as for paying tax bills or divorce settlements) and the rates on offer are typically superior to those products that offer flexible access in the instant access and notice product space.
On a 1 year term, the online challengers are currently leading the market. Zopa Bank is paying 1.12% while OakNorth Bank and Allica Bank are offering 1.11%. Extending slightly to 2 years increases the rate achieved to 1.36% per annum, on offer from Zopa Bank, followed by Hodge Bank paying 1.31%. 
While there are not many clients presently opting for the longer fixed term products, it is worth noting that the rates payable are also increasing. On a 5 year term, JN Bank UK are paying 1.70% followed by specialist lenders Shawbrook Bank and Secure Trust Bank who are paying 1.67% per annum.
Corporate Savings Rates
Many corporate clients have been getting in touch this quarter having received communications from their high street banking providers about a threat of rate decreases. While many corporates have been earning a negative rate in real terms for a while through paying bank fees while earning 0%, the increased awareness of this has driven many Finance Directors to seek better homes for the cash held.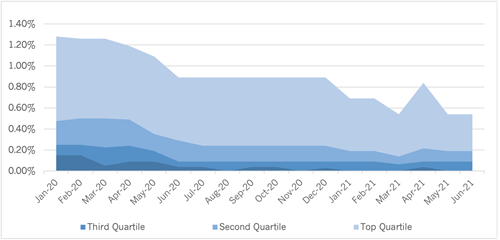 In our last issue, the best savings rate on Instant Access was offered by Hanley Economic Building Society paying 0.55% and this remains the same in this issue. The rate is payable on deposits between £1,000 and £250,000. This product is followed by 2 products paying 0.50% on offer with Aldermore Bank and Shawbrook Bank. Many corporates open these accounts and keep operational capital within them so they can easily swap monies in and out when required.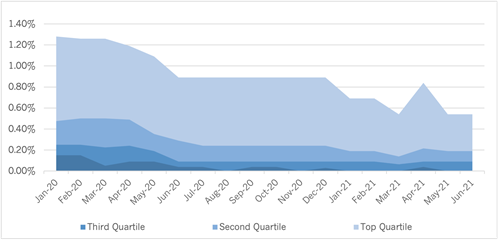 For cash that is not operationally needed today, many Finance Directors will prefer to utilise notice products up to a 120 day period. These products give a good return vs liquidity balance providing flexibility for access while often paying rates higher than those accessible on instant access.
Up to 120 day notice terms, the best rate on offer is 0.75%, with three products available – one from Cambridge & Counties Bank and one from Hampshire Trust Bank, each on 95 day notice periods, and the third from Investec Bank on a 32 day notice period. The Investec product is proving popular in that SME clients can have a good balance of return while still being able to access the cash subject to 32 day's notice being served.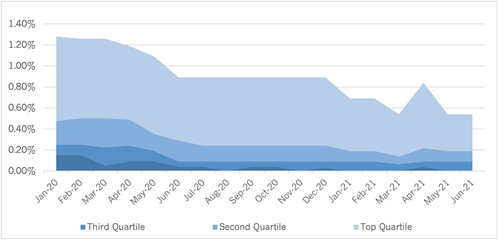 Recently we have had some corporate clients contacting us to access longer term rates. Many have received funding support from the Coronavirus Business Interruption Loan Scheme and they are laddering access to maximise the return over their recovery periods.
In the fixed term market, United Bank UK lead the way with a 1.66% rate on a 5 year product. This is followed by Cambridge & Counties Bank paying 1.55% for a range for SME and charitable clients. On a 4 year term, United Bank UK are paying the market leading rate at 1.51%. Shortening the timeframe to 1 year and it is the specialist lenders who are leading the market. Shawbrook Bank are paying 1.00% followed by United Trust Bank and Hampshire Trust Bank who are each paying 0.95%.
Charitable Savings Rates
Our charitable clients have been impacted greatly during the pandemic and yet there has been a sustained and at times increased need for their services and support. Making sure charities get every penny they can for cash held is of paramount importance and of course diversifying their cash is important for trustees to ensure the money is sufficiently protected under the Financial Services Compensation Scheme (FSCS).
We are really passionate about supporting all of our clients in getting the most from their cash, but we all feel an extra bit of good when helping our charitable clients to do so. For every extra £1,000 interest for Fareshare, 4,000 meals can be provided. This is a huge amount of extra value that will help so many families in need.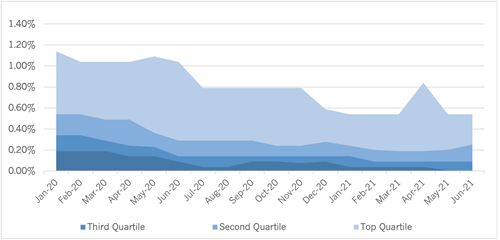 On Instant Access, the best savings rate on Instant Access is offered today by Hanley Economic Building Society paying 0.55%. This is payable on deposits between £1,000 and £250,000. This product is followed by further instant access accounts on offer from Monmouthshire Building Society paying 0.35% and Skipton Building Society paying 0.25%. These products are particularly useful for operational capital that can earn a better rate, be diversified to ensure FSCS protection and keep the flexibility to access as and when required.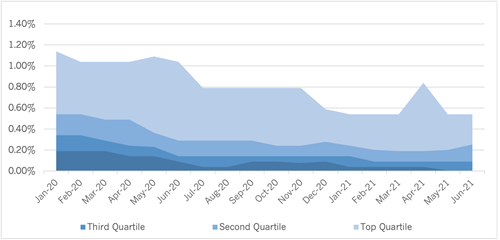 Looking at notice products, the best rate on offer up to a 120 day term is 0.75%, offered by both Cambridge & Counties Bank and Hampshire Trust Bank at present on 95 day notice terms, followed by 0.70% on offer from Redwood Bank on a 95 day notice term. These providers are all specialist lenders and we find that many clients wish to place a maximum of £85,000 with each to ensure full coverage under the FSCS as none of the three providers holds a credit rating at present.
Charities will keep cash for known liquidity needs in instant access and notice accounts, with a healthy buffer for the unexpected. Any surplus will typically be placed into fixed term as the rate on these products is typically fixed for the fixed term period and often higher than the rate available on flexible access or variable rate products. The best rate in the fixed term market for new customers on a 1 year term is 0.95% on offer from United Trust Bank and Hampshire Trust Bank, a rise of 0.15% over the last quarter with the previous market leader Redwood Bank increase their rate payable from 0.80% to 0.90%. On a two year term, charities can access 1.15% from Cambridge & Counties Bank, an increase from the previous market leading rate of 1.05% from Hampshire Trust Bank.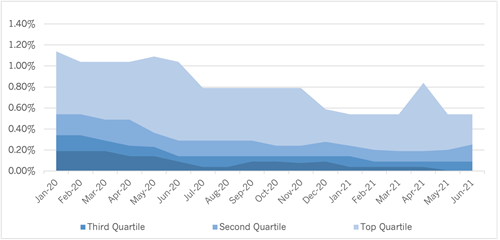 On a longer term period, charities can earn 1.15% on a 3 year term from United Trust Bank (albeit this rate is equalled by Cambridge & Counties Bank on a shorter 2 year term). Cambridge & Counties Bank continue to lead the market on their 5 year fixed term product that is paying 1.55% per annum. Cambridge & Counties Bank permit £7.5m per entity and so clients may open up several accounts on different terms up to this maximum level.
We are thrilled to see rates increasing and hope to see this continuing pattern as we move into the autumn over the coming months.