07 Aug 2021
---
Sustainable Banking
March 2021
By Dr Emma Black
Many individuals have long considered the environmental and social impact of their actions and those of their business or employer. Governance frameworks in banking in recent years have sought to ensure open and transparent practices are adopted with clear lines of responsibility and accountability. Regulators have implemented new regimes such as the Senior Managers Regime to bring about greater change and awareness, particularly after the lows of 2008. 
While these changes have been long coming, there has been a growing energy around ESG (environmental, social and governance) matters during the covid pandemic. People have had the time to consider what truly matters to them – what is their purpose? Who do they serve? What are their values? Far from leaving your values at the door when you come to work, employers are now actively aware of their impact and perception, and employees are being encouraged to bring their values with them when they come to work to help shape initiatives that help to better serve their stakeholders.
This is true within banking too and many of the leading banks have published their purpose and how their strategies have subsequently placed their purpose and wider sustainability at the heart of their organisations. The NatWest Group states their purpose as being "to champion the potential of people, families and businesses". HSBC state they are committed "to the transition to a global net zero economy"…"mobilising finance and accelerating innovation to make this happen". Nationwide Building Society state they are "running a responsible business for mutual good"…"guided by social purpose…committed to making positive impacts for our members, their communities and the environment". In fact many of the leading providers now make it clear who it is that they serve and what they feel their purpose truly is.
In 2015, the United Nations published their 17 Sustainable Development Goals as shown below: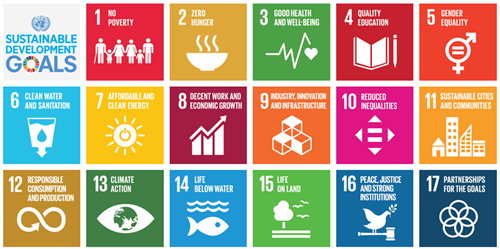 These goals call for countries to achieve an ambitious set of goals over a fifteen-year timeframe, with the idea that no one should be left behind. To achieve them, the United Nations stated that financial resources, technology development and transfer and capacity-building, as well as the role of partnerships, are critical.
These goals have gained momentum during the pandemic and many have sought to ensure their purpose is connected with their actions and ultimately with their impact. We have seen communities come together during the pandemic to support one another in a way that has been publicised, encouraged and celebrated. We expect to see more of this. We also envisage more being expected of those operating in the banking sector too.  
Triodos Bank is one bank that is leading the way. They consider their entire make up in a sustainable way and state that they reflect the essence of sustainable banking, writing that "every action, no matter how small, sets something in motion. What you do with your money every day makes a difference". They are not thankfully not alone and you'll see many more providers sharing with you how they intend to make a difference. 
We too have explored our purpose. We see our purpose as helping those who are facing a struggle and frustration when opening multiple accounts with multiple providers, including deputy's, trustees and attorney's who wish to obtain full depositor protection for cash held. We also envisage a future where we can use our savings intelligence and experience to help every saver to build their cash savings in a smarter and more sustainable way to reach their savings goals.
We are designing a purpose-led savings platform for savers of all amounts, and we're excited at the impact this will make in the market. Our intent is to help people reach their hopes and dreams in a smarter way and we're excited to share more as we progress through the year ahead.